Ah, Natalie Portman week. It's been a good one. It's encouraged me to write my blog more. But most of all, it gave me an excuse to watch one of my favourite actresses in some brilliant movies. But alas, we come to the end of our three reviews. We finish the week with a cult film, directed by one of your favourite comedy TV stars. Yes, It's Garden State.
In Los Angeles, struggling actor, Andrew 'Large' Largeman, (Zach Braff) gets a call from his father and has to return to New Jersey for his mother's funeral. Amongst trying to avoid an awkward confrontation with his father, Large reunites with old friend Mark (Peter Sarsgaard) and meets Sam, (Portman) a compulsive liar, at a doctors surgery. Between parties, trips to the doctors and being shot at by friends with fire arrows, Large finds himself being taught about life by Sam and he begins to fall for her.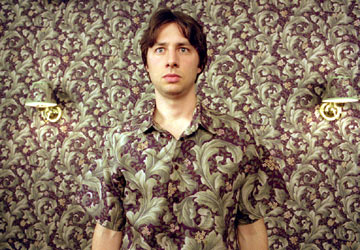 The Army were very impressed with Braff's camouflage design.
The movie is a wonderful representation of life. A particular life, but a real one. Not all of us have millionaire friends who invented silent Velcro or go to parties where a lot of drugs are involved but we can appreciate what it be like if we did; this film is that life. The emotions are really felt and that can be put down to both the writing (we'll talk about that in a bit) and the brilliant performances.When I first saw this movie, I had what I like to call a JD alarm on. Whenever Zach Braff acted like JD from Scrubs I would say, 'beepbeepbeep.' It happened once. This is a completely new direction (no pun intended) from the comedy TV star. Large is a completely different character from JD. He's awkward, shy and afraid of the world. Until he meets Sam. Like many movies, Portman's performance is the backbone of the movie. Her characterisation of the hyper, enthusiastic and outgoing Sam is mesmerising to watch and almost inspiring. Her unique attitude to life is a joy to watch. Peter Sarsgaard also throws in a great performance as Mark, Large's friend, who helps him to experience life more despite his friend, Tim (Jim Parsons) sleeping with his mother. Parsons, despite being on screen for less than ten minutes, helps to create one of the most amusing scenes in the movie as the Klingon speaking, fixed jousting champion and plain out right nerd 'mummy's boy' as it were. This also leads to one of my favourite lines in the movie: "Mark: The motherfucker.." Large: "Pun intended?"
The directorial debut from Braff and also written by the protagonist... Based on his own experiences.... He appears in every scene. It should feel a bit self involved but it doesn't. It feels humble. The writing is incredible. The dialogue changes from terribly awkward to exciting and uplifting without any difficulty or lack of confidence. One scene in particular stands out as an example of this. The first confrontation between Large and his father is so well written that, when combined with Braff's brilliant timing, the viewer feels awkward just watching it. Some wonderful touches make even the little things stand out in Braff's directorial style. Things like automatic taps turning on one at a time as Large walks past, a totally white bedroom or even screaming into an infinite abyss.
When the ladies said body art was sexy, Zach got the wrong idea.


The range of different genres and styles of music on the soundtrack is excellent and includes such artists as Colin Hay and Imogen Heap. Each song, hand picked by Braff, is perfect for the situation they are placed in. And the occasional camera shot glimmers with brilliance but unfortunately it doesn't carry on all the time.
While the majority of the plot is wonderfully written and, at times, brilliantly unique, the ending is littered with cliches. While touching, sweet and with occasionally original dialogue, the concepts of the last scene are overplayed and over worn. Never set a romantic scene in an airport! Not unless you're Up In The Air. I promise, we'll have seen it before. My only other criticism is the acting of Ian Holm who plays Large's father. His performance just seems a little hollow. Confrontations between Large and him are held up by Braff. It just seems like we should expect more from Bilbo Baggins, ya know? (But then again, Frodo was in Spy Kids 3-D so who am I to judge?)
The film is hilarious, sad, touching, inspirational and moving. With laugh out loud moments and times to make you cry, there's something for everyone. Some moments, in my mind, have become almost iconic. I really am struggling to place a star rating on it. Okay... I think I have it:
Best bit? Tricky, but for me there's two inspirational moments that stand out. The first is very simple. Sam shows Large what she does to make sure she's unique. Simple but ingrained in my memory. The second: Standing on some old machinery screaming into a giant hole in the ground. It is just wonderful.